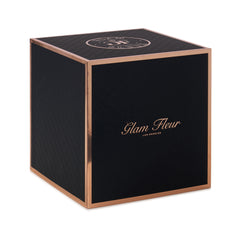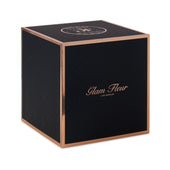 Noir Chic Glow White
Please note: Delivery date can be selected at Checkout
Noir Chic arrangement features 9 stunning Glow White roses. Set in our luxury fashion house-inspired Chic midnight-black boxes with gold accents. They'll stay beautiful for 12+ months (and last up to three years with proper care).
The Noir Collection's long-lasting preserved rose arrangements are ideal for elevating any space. Perfect gifts for you or for them. Available in a few sizes to fit every occasion and person. Their true rose aroma lasts for months.
Preserved Stems

Large Premium Ecuadorian Roses (2.5 inch in diameter)

Color(s)

Glow White

Box size

8" x 8" x 9"
WHY CHOOSE GLAM FLEUR?
100% real roses that last 12+ months
Harvested from the beautiful fields of Ecuador
Our roses are cut and preserved at their peak beauty
Enjoy fast delivery options for every preference
Give the gift of year-round luxury
Please note: Each Glam Fleur arrangement is prepared by hand with real roses and therefore one of a kind. Due to the handmade nature, our arrangements may vary slightly in design, rose color or appearance from product images.

Overnight or Second Day Delivery: order by 12PM (noon PST)
Choose Your Delivery Date on our Checkout Calendar!
We Can Hand-Deliver in the Los Angeles area.
Delivery Methods:
Overnight

Second Day

Standard (3 days or more)

Saturday Deliveries

Pickup in our LA Boutique

FedEx International Shipping
Note: Overnight Delivery orders placed on Friday after 12pm PST arrive the following Tuesday. Selected delivery date is a FedEx estimate and not guaranteed for international shipments.
Our preserved roses last up to 3 years without watering.
Do NOT remove roses from their box.
Resist touching roses or knocking things into them.
Keep the roses out of sunlight and high heat.
Customer reviews
See it styled on Instagram