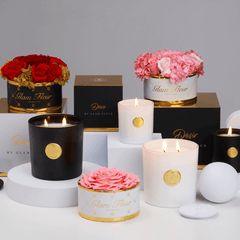 Désir Candle
Please note: Delivery date can be selected at Checkout
Awaken your burning desires! Bring home the scented candle that turns the everyday into elegance. The custom aromatic blend is comprised of three overlapping fragrances. Amber, the most intense, diffuses a warm, slightly sweet, exotic scent. The floral, woody aroma of Rose balances the Amber's savory notes while hints of herbaceous Tobacco ground the candle's richness and complexity. The intertwining lush notes evoke the depth, style, and sophistication you've come to expect from Glam Fleur. Reinvigorate any space with this enticing scent that lingers.
Product Details:
Hand poured coconut wax with apricot oil

Large Candle Size: 12oz

Large Candle Burn Time: 84 hours

Regular Candle Size 3.5oz

Regular Candle Burn Time: 27 hours

Chic black glass container
Overnight or Second Day Delivery: order by 12PM (noon PST)
Choose Your Delivery Date on our Checkout Calendar!
We Can Hand-Deliver in the Los Angeles area.
Delivery Methods:
Overnight

Second Day

Standard (3 days or more)

Saturday Deliveries

Pickup in our LA Boutique

FedEx International Shipping
Note: Overnight Delivery orders placed on Friday after 12pm PST arrive the following Tuesday. Selected delivery date is a FedEx estimate and not guaranteed for international shipments.
Our preserved roses last up to 3 years without watering.
Do NOT remove roses from their box.
Resist touching roses or knocking things into them.
Keep the roses out of sunlight and high heat.
Customer reviews
See it styled on Instagram